Toggle %s Welcome to Fort Benning
Founded by former command from the famous 82nd Airborne for I44 (c. 2012), the 25th ID wishes to continue the aggrandization of historical MilSim, and tactical, coordinated, and simulated environments during the Vietnam War.
Posted By: CPT J.Perkins @ 14 January 2017 - 01:15 PM
64.94.238.15:30510
airassault101.ts.nfoservers.com:30510
Comments: 0 :: View Comments
Toggle %s Operation Railroad Junction
Posted By: CPT J.Perkins @ 13 January 2017 - 07:08 PM
Attention!
We will be embarking on a new operation that will undoubtedly lead to new battles for the 25ID. Operation Railroad Junction is inspired by Operation Junction City. The operational objective was to operate from the Cambodian border and conduct raids inside Cambodia to root out the 9th Division Vc. Main tasks were to uproot the supply and COC networks of the 9thVC. Primary assets for the Americans were the 173rd infantry brigade, 1ID, 25ID and the 11th armor cav. The cav divisions were of course supported by rotary.
Prior to aggressive maneuvers a network of FOB and Air installations had to be prepared.
Operation Railroad Junction
-Joint operation with AUS counterparts.
Location: Cao Bang inside War Zone C east of the Cambodian boder.
Length 3 days
Time 1500 EST -5 1/14/17
Directives: ESTABLISH FOB MANHATTAN
1. Establish fob position to serve as forward COC and rotary LZ
2. Air lift in all defensive assets needed
a. sandbags
b. razor wire
c. demo and clacker
d. m113 tracked vehicles x3
e. medical~establish mash
f. mortars x2
g. rations
3. Conduct human intelligence gathering operations in surrounding towns and hamlets.
4. Defend FOB MANHATTAN
At Ease.
XO
1LT J.Perkins
Comments: 0 :: View Comments
Toggle %s January 2017 Air Assault Sign up
Posted By: 2LT D.DeLuca @ 11 January 2017 - 12:36 AM
Golf Company Headquarters
_______________________________________________________________________
Gents,
For those of you whom have enlisted in the unit within the last month, it is a UNIT REQUIREMENT to become Air Assault Qualified. To do so, you must attend an Air Assault School that lasts anywhere from one-to-three hours, depending on the class size. Air Assault covers sling load operations; basic Air Assault; helicopter boarding and dismount procedures; and much more.
To obtain the AAS badge, you must sign up for one of the following class dates. Classes will NOT be conducted unless there are a minimum of ten(10) trainees in queue for a single date.
01/15/17
01/22/17
To sign up, reply with the following format:
RANK AND NAME: (i.e: 1SG Daniel DeLuca
BCT CLASS: (i.e: #001)
ASSIGNMENT: (i.e: 11B INFANTRYMAN)
OUTFIT: (i.e: 1ST SQUAD, 1ST PLATOON)
DATE SIGNING UP FOR:
Comments: 8 :: View Comments
Toggle %s Departure/Retirement
Posted By: 1SG N.Fowler @ 02 January 2017 - 10:57 PM
Gents,
It has been a long and rough ride these recent months. I have seen the unit through times thick and thin, always have we came out the other side.
It's been near four months since I began the path that is now the 25th. With the combined efforts of hard work & dedication of others, we, have built this together; a monument to our own ambition. It seems no matter what has transpired over my time here, we always have seemed to pull through, just as cockroaches, but the kind that play cards and pool, or whatever. I know I'm not the only one to have seen that picture.
Nonetheless, despite the fanfare and eulogy pertinent towards everyone here, I suppose it is time for me to get to the point. Today marks my official departure, and retirement from the unit. The reason for this, is really simple, for those of you who are new. I literally can not be here anymore, even if I wanted to. I will instead be doing the real thing, getting yelled at by real Drill Sergeants, for the time extending beyond next week.
This departure is not one of animosity, and should not be seen as such, either. I do not want anyone 'jumping ship' because they believe I am. That is simply not the case. Instead, I want everyone, in their best memoriam of myself, to simply carry on. As the founder of this unit, it shall be my legacy that it strive and exceed beyond our current capacity; all of which is up to you - the member, entirely.
Again, I am most proud of you all. I would like to render a special thanks unto Lieutenant Leonhard for keeping my sanity in check, and being there when needed. He's had a lot go on in the real world, but he still finds time to babysit my ass.
Another shout out to Lieutenant Perkins, for stepping up when needed. Without him, we would not be where we are at today. Likewise to Lieutenant Bart, despite how butthurt you make people, you're still ours.
In conclusion, all leaders have what they need to continue in my absence - fiscally, logistically, so on. We're good to go in that regard.
The unit is yours, people - bring it unto glory.
Farewell,
-First Sergeant Noah Fowler
Founder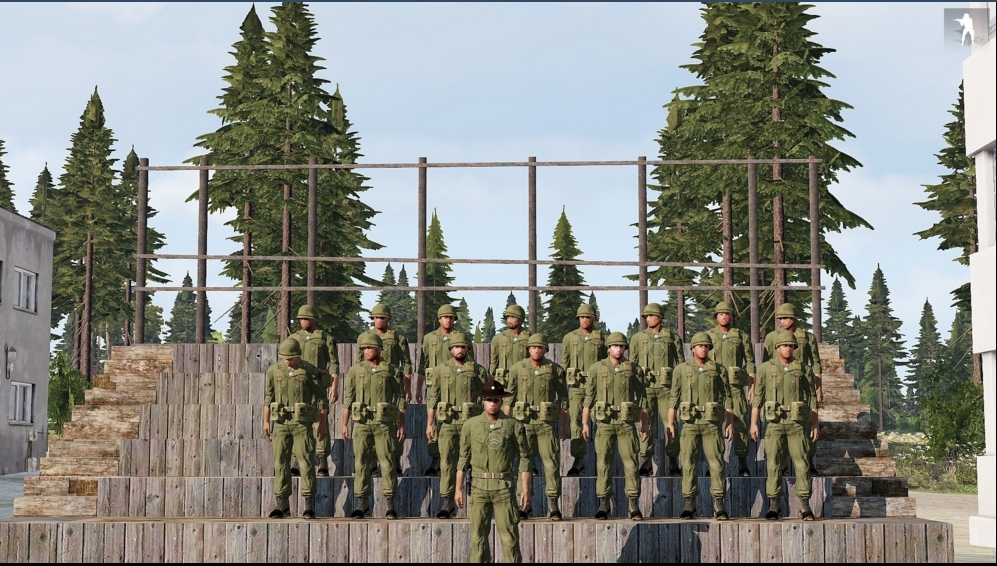 Comments: 8 :: View Comments
Toggle %s Holiday Weekend Stand-down
Posted By: 1SG N.Fowler @ 21 December 2016 - 04:56 AM
CHRISTMAS/NEW YEAR'S STAND DOWN
DAYS: DEC. 24, DEC. 25, DEC 31, JAN 1
MANIFESTATION: Stand-down includes for the listed dates, no;
-Official Trainings/Mandatory Trainings
-BCT
-Official Operations
Teamspeak regulations are still in effect. With such implementation for the expected activity decrease for those days, WEEKDAYS are still applicable for any official events, trainings, operations, or so on, should they be scheduled. RECRUITMENT is expected to be maintained and continued throughout the Holidays, despite the potential lack of BCTs for the next two weekends. Weekend BCTs may be resumed Jan. 7th.
Recruits who join during the two-week stand-down period are subject to advanced-rank upon completion of the BCT, and with usual regard toward the 'Bring-a-Friend' edict.
With regard,
-Command
Comments: 0 :: View Comments